I was in the mood for a burger, but the movie *Food Inc. *burned some frightening images of industrial food operations into my mind. Plus, all the recent talk of ammonia-treated, pink-slime filler had me even more concerned about the origin of what I am eating. What could I do?
Use the interwebs! A wide array of websites and mobile apps are making it easier to find restaurants and markets selling locally grown fruits, vegetables and meats – the kind of food your great-grandparents would have eaten.
Enter your zip code into Real Time Farms and your regional map will be populated with local area farms, markets and eateries that function outside the corporate food system.
In Austin, Texas, you can find out which of more than three dozen markets is nearest to you, what days and times they're open and what's currently in season. In Portland, Oregon, see what's on the prix fixe menu this week at Abby's Table, a restaurant serving straight-from-the-farm, Mexican-inspired dinners on Wednesday and Thursday evenings.
The Slow Food Movement
Increased awareness of food and environmental issues, combined with a fast growing Web-presence, is driving unprecedented growth in local food, which is also referred to as "slow food," because the focus on building relationships with local farmers and cooking seasonal recipes take time. It's also about as far as you can get from a fast food drive-through.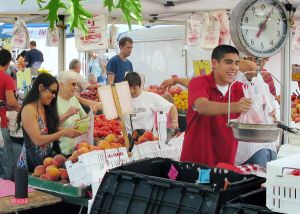 The U.S. Department of Agriculture predicted revenue from locally grown food would hit $7 billion in 2011. While that's a small slice of the pie compared to Food Inc., it's enough to support a younger, web-savvy generation of farmers. According to the Statesman Journal there are now more than 7,000 farmers' markets nationally — a 150 percent increase since 2000.
Jan Kozak manages a popular market in Athens, Georgia. In just three seasons the market has tripled its number of weekly visitors from roughly 800 to 2,300. Kozak says simple online marketing tools like MailChimp and Facebook have had a big impact in keeping customers in touch with the market's 80 vendors and making the weekly event a centerpiece of community life. Like many others across the country, the Athens market now accepts food stamps, and vendors can use Square to accept credit card payments via smart phones.
A typical carrot has to travel 1,838 miles to reach your dinner table.
According to a report by the Leopold Center for Sustainable Agriculture, a typical carrot has to travel 1,838 miles to reach your dinner table. Even if it is grown on a small organic farm (and it probably isn't), the transportation alone creates an oversized environmental impact, and most of the money you spent leaves your community.
Hungry? Interwebs to the Resuce!
So, if you're ready to buy a carrot (or a burger!) from the farmer down the road – the info you need is just a few clicks away. Start with some of these mobile apps and sites:
Local food abounds – enjoy!