How you can turn your car into a paycheck
Owning a car is expensive. In 2016 AAA reported that the average cost of owning a car was over $8000 annually. We created Getaround to help owners like you make the most of your car. By sharing your car, you can turn your depreciating asset into a paycheck.
Your expected earnings
The math speaks for itself. Let's run through the numbers to see how much your car could earn. We'll break down the earnings for some of the most popular types of cars shared on Getaround – standard sedans, compact SUVs, pickup trucks, and luxury convertibles. 
*
**Based on national averages provided by AAA. Lease and financing payments not included.
*
Keep in mind that the numbers we provide above are based on a sample of vehicles shared on Getaround. These cars are available for sharing 50% of the time or more and are rented at least the average number of times for that vehicle type each month.
Estimating what your car will earn each month is pretty simple. The more days per month your car is rented, the more you'll earn. Keep your car's calendar open to boost your earnings. Other variables that also affect your car's earnings include your car's hourly rate; the market value of your car; demand in your area; and seasonal fluctuations in travel.
Accounting for seasonality
Like most of the travel industry, part of Getaround's business is seasonal. When you factor in seasonality, you'll notice that your earnings peak in the summer months and dip slightly in the winter months.
Over the course of the year, most cars' monthly earnings look like this: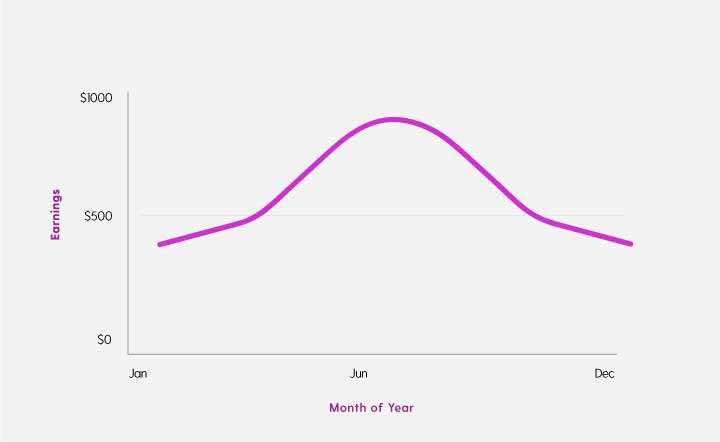 There are lots of ways to maximize your earnings even in the off peak season. By optimizing your car's availability and price, your car could even pay for itself. From college tuition to vacations, your car has your best interests in mind.
Your earnings are guaranteed
We'll help you get started on the right foot. Our monthly earnings guarantee will help you build confidence by ensuring that your car will always bring home the bacon. Think of this guarantee as a safety net to help cover your monthly costs.
You'll never earn less than what we guarantee each month. All you need to do is meet basic eligibility requirements that are meant to help keep your car on the road making money.
We also guarantee peace of mind. From our $1M insurance policy to 24/7 customer support, we'll be right by your side the entire journey.
Questions? Call us at (866) 239-4084.