Here at Getaround, we love cool cars. When we heard about the new Bond movie, we knew a trip to the theater just wouldn't cut it. So instead of watching 007, we thought… what if YOU could be 007? We can't promise you the charm, the good looks or the wit, but we can 007 your lifestyle for a day.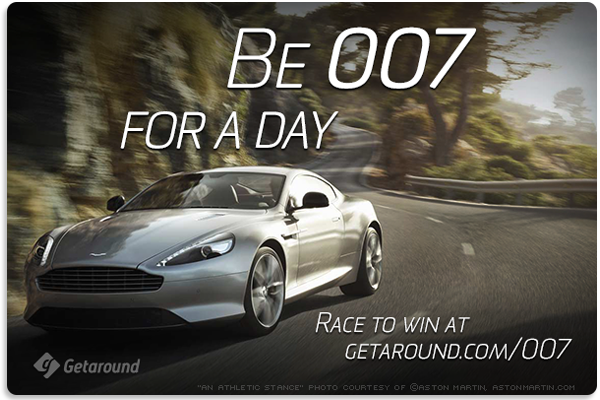 Better yet, we've made it easy (and fun!) to enter – all you have to do is take a lap around the Getaround raceway. On Monday, November 19th, we'll randomly select one player to be 007 for the day. The top 50 players will each receive two tickets to Skyfall. There's no limit to how may times you can race, so feel free to keep coming back for more.
So what does it mean to be 007 for the day?
A day in an Aston Martin courtesy of Getaround. Ejector seat not included.
A night in a luxe hotel hand-picked by our fabulous partners at HotelTonight.
A decadent five-star dinner. Shaken – never stirred – martinis throughout.
A custom tailored suit. You supply the bow-tie.
2 tickets to an IMAX screening of Skyfall.
Sound too good to be true? It's not. Enter now, 007!